Functions and Art Concepts of The Milky Way Project

Streams of water have continuously given an abundance of blessings to all the lands beyond time.
The Milky Way Project (Amanogawa Project) focuses its theme on creating new attraction for the whole waterfront areas. This project introduces great opportunities for many people to discover the allure of streams of water, while experiencing special lighting effects on the water surface.
By purposefully utilizing artefactual lightings on the natural stream of the river, we incorporate people's daily lives into surrounding views. Our aim is to make cultural landscape temporarily manifest itself – as a result of collaboration of borrowed landscape from the surrounding areas.
It gives us opportunities to reflect on the histories and memories the stream of water has so far witnessed. We believe that we can offer a space where people can review how cultural and economic exchanges are supporting our lives on the water front.
When we produce a special stage on the water surface, the Milky Way emerges just for the night.
As we make a wish on illuminating stars in the night sky, LED based light balls (Japanese name: Inori Boshi – いのり星®) float off people's hands onto the water surface.
This is the moment when the surface of the river instantly turns into the Milky Way. The river is no longer the water we take for granted in our daily lives. Instead, we start recalling how the river flows so fast and discovering other faces of the river, which are normally hidden underneath.
LED based light balls (Inori Boshi®)* plays an important role as a key device, connecting the river and people. They will eventually, awake in people's mind deep affection for the water front.
Inori Boshis are special communication tools with hydrophilic nature, which light up when in contact with water.
The size of each ball is just 8.5cm in diameter.
However, very high sensitive solar panels attached to each ball are capable of generating enough electricity needed to light LED, and remaining power can be stored within the ball.
We renew and circulate natural energy, and the balls are indefinitely reusable. So, this project is very much environmental load-reducing.
It is our condition that all of the floated Inori Boshis are collected and reused.
During the development stage of this LED based light balls (Inori Boshi®); we have made many errors and trials in order to produce a stage with little or no environmental load on the water.
The result is the current Inori Boshi. Within a micro cosmos of 8.5cm in diameter, we have successfully incorporated a solar panel with a cutting edge of collimation technique, accumulator with high storage efficiency and capability, and light emitter with very little power consumption.
Our project members believe that this highly creative communication device is symbolic of forthcoming recycling-based society in that we need to generate, store and efficiently use energy.
We also believe that this is our way to send messages to the people all over the world as a nation having experienced disastrous earthquake in 2011.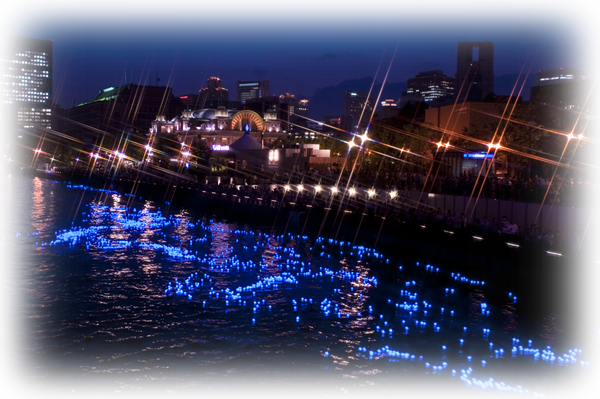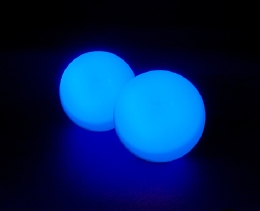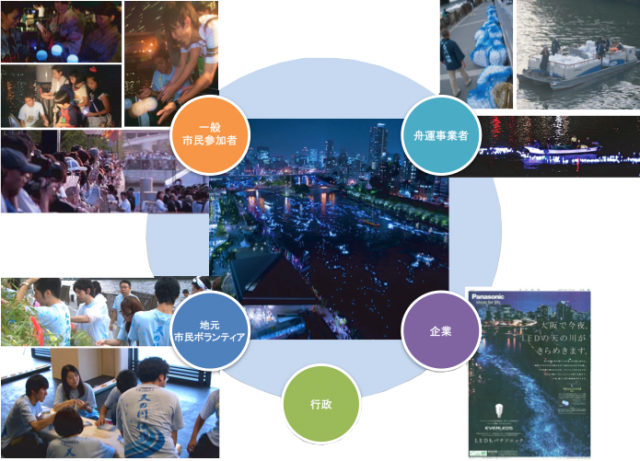 受賞および登録
平成OSAKA天の川伝説2009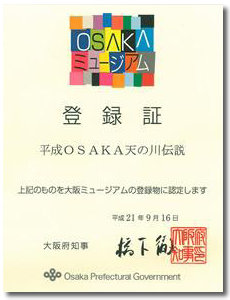 ◆受賞
「活力グランプリ」特別賞受賞
大阪の地域経済、産業発展に多大の貢献を果たした個人、法人、団体などを表彰する「活力グランプリ」(大阪商工会議所主催)の特別賞を受賞しました。(平成21年12月17日受賞)
◆登録
「大阪ミュージアム登録」
歴史的なまちなみや豊かなみどり・自然など、魅力的な資源を発掘・再発見し内外に発信する「大阪ミュージアム構想」に登録されました。(平成21年10月7日登録証発行)
平成OSAKA天の川伝説2010

◆受賞
「平成22年「関西元気文化圏賞」ニューパワー賞を受賞しました。